I would be completely remiss if I didn't thank all of you for the comments and emails congratulating us on the new baby. It's been so nice to hear from so many of you!! As for how I'm doing, let's just say that the first trimester is not my friend, so I'm very happy to be moving right along. I'm actually under doctor's orders to stop losing weight (seriously, any other time I would kill for such a problem), so I have implemented a
strenuous
program involving maximum couch time (
yay
for the fall
tv
season) and at least one
PSL
avec
whip per day. That should do the trick.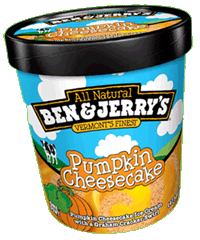 To go along with my new program, I might need to pick up a pint of
Ben & Jerry's Pumpkin Cheesecake ice cream
. I just got an email about it this morning, and how good does that sound?
Photo by Annie's Eats
The other thing I'm craving lately? Dill pickles. (To be fair, pickles are pretty much a staple for me even when not pregnant. So right now I'm in overdrive.) I actually read that dill can have anti-nausea properties, so it's a craving that makes sense. But I've gotten really picky about which ones I like. So I decided to make my own. I know that it sounds like I've gone crazy, but it was SUPER easy, and they were
so good
. I may have eaten an entire jar yesterday. I found the recipe
here, on a blog called Annie's Eats
, written by a girl who is far more domestic than I ever hope to be. I actually had all the ingredients on hand, thanks in large part to our
CSA
veggie
deliveries
. It took less than 30 minutes to make, then they sit in the fridge for two days. I highly recommend them!